Capital One Arena Information
Capital One Arena DC is an exciting multipurpose indoor arena that brings the hottest sports and entertainment events to a live crowd! Located in downtown Washington, this state of the arts venue is renowned for being home to the NBA Washington Wizards as well as the NHL's Washington Capitals, the WNBA's Washington Mystics, and the NCAA's Georgetown Hoyas's men's basketball team!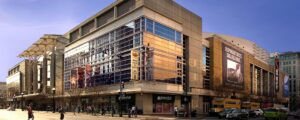 To keep up the date with the latest sport events, the Verizon Center prides itself on the latest technology and was the first to purchase the true indoor high definition LED scoreboard on its ten year anniversary!
Washington also has a vibrant arts and music scene, giving the best in live performance. The Verizon Center is an incredible venue to see the superstar's of the music world on stage. Some of the biggest highlights include; Barry Manilow, The Jonas Brothers, Lady Gaga, Jennifer Lopez, Pink, Elton John, Beyoncé, Cher, Bruce Springsteen and more!