Capital One Arena | Washington, District Of Columbia
Once again touring the world's most celebrated Christmas rock extravaganza "The Ghosts of Christmas Eve", Trans-Siberian Orchestra comes to Verizon Center on Thursday 14th December 2017 for a night of rockin' holiday magic! It's been a tough year for the collective, who lost their founder Paul O'Neill earlier in 2017:
"Paul always talked about how he saw TSO as both an idea and ideal that would continue long after he stepped off the 'flight deck' (his name for the stage). We hope to continue his work of providing a timeless, multi-generational tradition like those created by his idol Charles Dickens. In that spirit, we are proud to announce that Trans-Siberian Orchestra will return with their 2017 Winter Tour featuring the cherished tale The Ghosts of Christmas Eve!"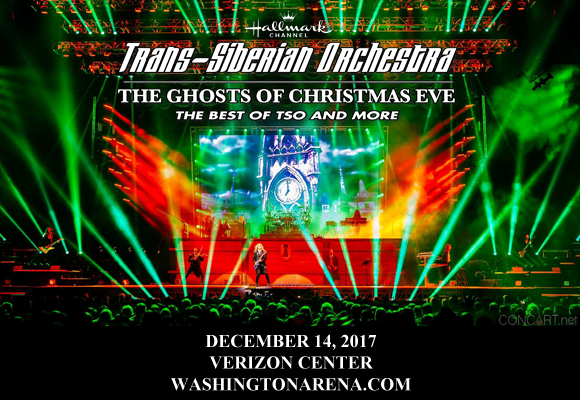 Formed in 1993 by producer, composer, and lyricist Paul O'Neill, who brought together Jon Oliva and Al Pitrelli (both members of Savatage) and keyboardist and co-producer Robert Kinkel to form the core of the creative team. "An arena-rock juggernaut" is how the collective has been described by the Washington Post, which described their music as "Pink Floyd meets Yes and The Who at Radio City Music Hall." Known for their rock operas, including Christmas Eve and Other Stories, The Christmas Attic, Beethoven's Last Night, The Lost Christmas Eve, their two-disc Night Castle and Letters From the Labyrinth, TSO has sold more than 10 million concert tickets and over 10 million albums over the years.