Capital One Arena | Washington, District Of Columbia
EVENT POSTPONED (date TBA). Hold on to your tickets! They will be valid for the new date once announced.
Celebrate! It's a celebration, as the 'slayin Queen of Pop, no other than Madonna, just announced extended tour dates for her massive "The Celebration Tour", celebrating four decades of her legendary pop hits and fan favorites across her 14 studio albums. The Celebration Tour is throwing a party at Capital One Arena on Monday, 18th of December 2023, inviting fans of all generations to witness a 'ray of light and party 'like a virgin as the Queen conquers the stage. As Madonna takes her reign as pop's greatest queen to exist, the tour will be joined by special guest Bob the Drag Queen from RuPaul's Drag Race. Sharing the stage with one of the world's greatest pop icons, concert-goers can expect astounding acts, music, choreography, costume changes, and huge surprises at every show. As the "Celebration" and "Like a Virgin" goddess promises sets that cover her career's biggest highlights, make sure to save yourself and the gang a spot at the show by booking your tickets now!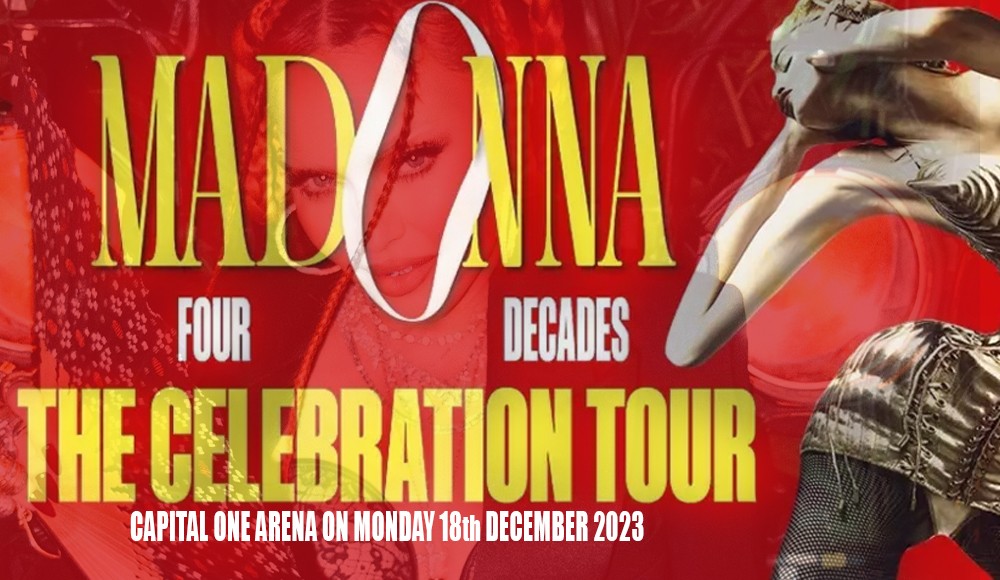 It's definitely one of the year's biggest celebrations as the coveted Queen of Pop, the one and only Madonna, is taking decades of her career and industry-defining moments, hits, and influence back to the live stage at The Celebration Tour. Acclaimed for her influence and iconic hit singles "Ray of Light", "Like a Prayer", "Like a Virgin", "Hung Up", "Frozen", "Celebration", and a slew of hits across her 14 albums, Madonna is widely acclaimed for her reinvention of the mainstream pop scene.
"I'm about to create another show, and I've been working for several years on the screenplay about my life," the singer shared in an interview on her cover for Vanity Fair. "This is a good time for me — I'm gathering ideas, getting inspired, hanging out with creative people, watching films, seeing art, listening to music,"
As her 12th world tour, the sixty-four-year-old singer continues to slay and serve like it's the glory days of the '80s. She continues to deliver all-out performances with her amazing visuals, show productions, choreography, costume changes, and huge surprises at every show. Boasting over fifty shows on its trek, along with new tour dates coming out, Madonna's definitely conquering her reign as the world's greatest Queen of Pop.
"It was a huge day for Madonna and a massive success thanks to her fans," shared Arthur Fogel or Live Nation as the tour's first leg quickly sold out tickets. With extended tour dates out and about, Madonna fans of all generations are on the watch for one of the world's biggest tours to watch out for.
"I don't think about stopping", Madonna shared with V Magazine in 2021 about her health, determined to finish her Madame X Tour despite some health problems at the time. "everyone kept saying, 'You gotta stop, you gotta stop… I said, 'I will not stop. I will go until the wheels fall off" Madonna exclaimed.
As The Celebration Tour launches full-swing, the Queen of Pop looks forward to sharing decades of iconic moments in the world of pop. "I am excited to explore as many songs as possible in hopes to give my fans the show they have been waiting for," Madonna shared in a statement about the tour's upcoming trek.
Teasing "Four decades … as in, 40 years, as in all those songs?" in her surprise tour announcement, The Celebration Tour's setlist is yet to be revealed. Possibilities are endless as fans can expect to catch hits from different eras and decades such as "Holiday", "Hung Up", "Frozen", "Ray of Light", and many more tracks off of her legendary catalog.
With her music highly-regarded as legendary masterpieces deserving of her Hall of Fame recognition, Madonna's shows aren't just servings of nostalgia, they're full-swing productions with big surprises ranging from extra-fashionista outfits, daring and sexy choreography as male dancers flex those abs, and other out-of-this-world productions that never fails to take fans by surprise.
Make sure to RSVP for the celebration, only at The Celebration Tour led by the one and only Madonna by booking those tickets now!