Capital One Arena | Washington, District Of Columbia
This girl is on fire! As summer heats up the scene, the one and only Alicia Keys is serving up a brand new tour. Celebrating freedom and self-liberation, Alicia Keys is launching the 'Keys to the Summer' 2023 tour, marking a special stop at Capital One Arena on Friday, 7th of July 2023. The 15-time Grammy Award winner looks forward to "creating a 360 experience", promising something that fans have never seen before. Known for her acclaimed global masterpieces "No One", "Fallin'", "If I Ain't Got You", "Girl on Fire", and her feature in Jay-Z's "Empire State of Mind", Alicia Keys is throwing this year's hottest live cross-country tour trek, celebrating over two decades of powerful chart-topping hits and iconic moments in the world of music. As the one and only Alicia Keys offers the key to this year's biggest summer live concert trek, make sure to save your spots at Capital One Arena by booking those tickets now!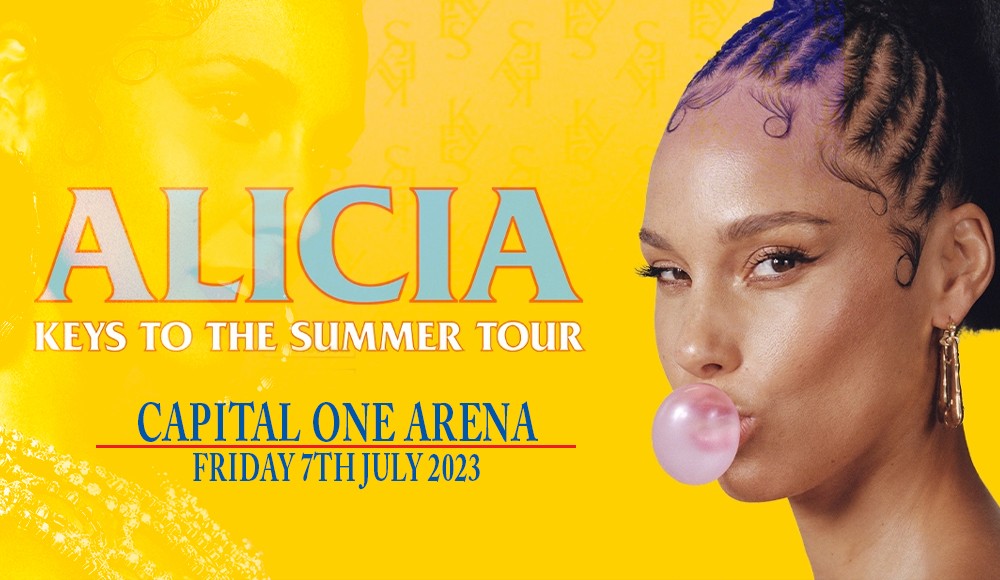 Dominating the scene for her chart-topping singles "Fallin'", "If I Ain't Got You", and "No One" amidst the millennium, Alicia Keys is back on fire! She's set to launch the 'Keys to the Summer' 2023 tour, celebrating freedom and self-liberation in a magical and colorful experience like no other. The new tour marks her return to the live scene following her 'Alicia + Keys' world tour in support of her seventh and eighth LPs "Alicia" and "Keys". Offering the key to a summer to remember, make sure to catch her live on stage at Capital One Arena on July 7th.
"The Keys to the Summer tour is going to be completely unforgettable and unmissable," she shared in a statement. "I describe it as a celebration of freedom and self-liberation! It's going to be colorful, magical and will light up your body, soul and all of your senses! This is my first time creating a 360 experience and we've made sure it's like nothing you've ever seen! I'm so excited to see y'all this summer!"
Jet-set to heat up the summer across the country, the fifteen-time Grammy Award-winning singer is set to bring her biggest acclaimed hits, fan favorites, and new music to the live stage. Over the past three years, Keys dropped three new albums, namely "Alica", "Keys", and "Santa Baby". Her new hits include "December Back 2 June", "Best of Me", "Underdog", and many more.
Keys found her breakthrough in the early 2000s with her acclaimed debut LP "Songs in A Minor", debuting at #1 on the Billboard 200, hitting 7x Platinum. Though what seemed like an overnight success with her first massive global hit "Fallin'", Alicia Keys has been making rounds in the industry since 1994. Facing some difficulties and disputes with her former label, she moved to a new label, finally able to release the music she wanted, and much to critical acclaim.
As her back-to-back releases, "Alica" and "Keys" in 2020 & 2021, took fans back to her roots, Keys shares how she felt coming back to her roots, a "beautiful circle" in her journey with music.
"'Keys' is a homecoming. I knew that it was bringing me back to a place that was familiar for me," she shared in an interview with Variety. "You've just been searching for more of you. Gearing up for "Keys," and thinking about my relationship to the piano… it felt like, man, I'm coming back. I'm back in my bag. It's a beautiful circle."
As Alicia Keys conquers the stage amidst the summer heat, make sure to grab the key to an amazing night with the legendary singer by booking your tickets now!