Capital One Arena | Washington, D.C
Erykah Badu & Yasiin Bey (aka Mos Def) are joining forces to bring an unforgettable night of soulful vibes and thought-provoking lyrics to Capital One Arena on Thursday 13th July 2023! Erykah Badu, the iconic neo-soul queen, has captivated audiences for decades with her enchanting voice and mesmerizing stage presence. Yasiin Bey, formerly known as Mos Def, is a legendary hip-hop artist and actor who has challenged the status quo with his conscious rhymes and unwavering commitment to social issues. With multiple Grammy Awards, critical acclaim, and a fiercely loyal fan base between them, this dynamic duo promises a show that will leave you inspired and awe-struck. Don't miss your chance to experience the magical fusion of Erykah Badu's soul-stirring vocals and Yasiin Bey's powerful lyricism as they grace the stage together. Buy your tickets now and be a part of this once-in-a-lifetime musical event!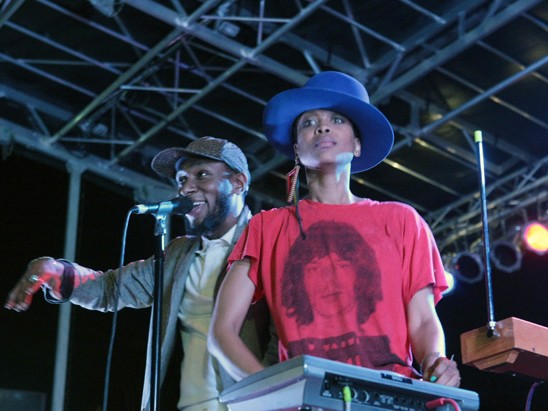 Erykah Badu and Yasiin Bey (aka Mos Def) are set to take the stage at Capital One Arena on Thursday 13th July 2023 with a show that promises to be an unforgettable blend of soulful tunes and thought-provoking lyrics. Badu, the enchanting queen of neo-soul, has been a groundbreaking force since her debut album Baduizm, which earned her two Grammy Awards and a legion of dedicated fans. With her unique voice and unparalleled style, she has released multiple acclaimed albums, including the widely celebrated Mama's Gun and New Amerykah series.
Yasiin Bey, formerly known as Mos Def, is a powerhouse in the world of hip-hop, both as a solo artist and as one half of the acclaimed duo Black Star, alongside Talib Kweli. With a career spanning over two decades, Bey has released critically acclaimed albums such as Black on Both Sides and The Ecstatic, earning multiple Grammy nominations along the way. His artistic versatility extends to acting, with roles in films like The Italian Job and Be Kind Rewind.
Together, Erykah Badu and Yasiin Bey create a formidable pair, each bringing their distinct sound and style to the stage. Their combined talents and passion for their craft guarantee a night of unforgettable performances and powerful messages. As they grace the stage at Capital One Arena, you'll be transported into a world of soul-stirring melodies and captivating lyricism, making for a truly magical experience.
This one-of-a-kind event is not to be missed, as two of the most influential artists of our time come together for a night of extraordinary music. Their collaboration will leave audiences spellbound and uplifted, showcasing the best of neo-soul and hip-hop.
Join Erykah Badu and Yasiin Bey at Capital One Arena on Thursday 13th July 2023 for a show that will leave a lasting impression on your heart and mind. Don't let this chance to witness a legendary musical collaboration pass you by – grab your tickets now before they're all gone, and prepare yourself for an evening of unforgettable performances from these iconic artists.