Capital One Arena | Washington, District Of Columbia
As New Kids On The Block, Salt N Pepa, Rick Astley & En Vogue unleashed their spook of 80s classic music videos on their awesome collab on the song 'Bring Back the Time', a rush of nostalgic fun memories swept through internet audiences and sent more waves of excitement for their upcoming Mixtape Tour 2022. "We had a blast out on the first MixTape Tour in 2019, and can't wait to take it to another level with our fans on the MixTape Tour 2022," Donnie Wahlberg said in a press release. "Just like a mixtape, these shows are going to take audiences through all the emotions." Kicking off in June 2022, the MixTape Tour will have a nationwide run including a play date at the Capital One Arena on Saturday 23rd July 2022. But before you press play, click the 'Get Tickets' link on this site to book this hot ticket. Don't miss it!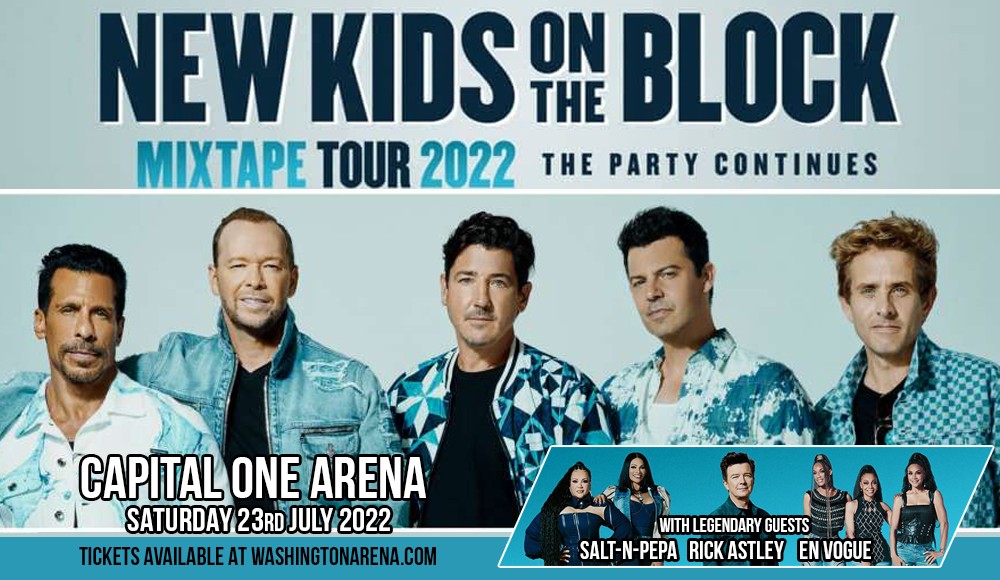 If you're seeing videos that seem like you've stepped inside an 80s time machine, it's not your computer screens, folks…it's New Kids On The Block, Salt N Pepa, Rick Astley & En Vogue having a ball, 80s-vibing on to Journey's "Separate Ways," A Flock of Seagulls' "I Ran (So Far Away)," Robert Palmer's "Addicted to Love," Devo's "Whip It," Toni Basil's "Mickey," and other works by the Talking Heads, Twisted Sister, Billy Idol, and more.
"Bring Back the Time" is just the perfect anthem, a historic first which brings together Mixtape Tour 2022 tour mates. Penned by Donnie Wahlberg of The New Kids on The Block, the song brings back memories and is a smile-inducing ditty that aims to uplift and inspire a multi-generation of music fans "From the second I started working on this song, I knew it could be a perfect anthem for the entire Mixtape 2022 tour! Sort of like a 'Mixtape within a Mixtape'. When the other artists from the tour lineup responded with such enthusiasm, and were willing to take this nostalgic musical journey together, I knew it would be something special for all of our fans. Hopefully, 'Bring Back The Time' captures a love of music, of making memories and of people celebrating the best of times. We plan on bringing that very energy to the stage every single night!"
NKOTB will definitely perform fan favorite chart-topping hits like "Hangin' Tough," "I'll Be Loving You (Forever)," and "Step By Step" while tour mates Salt-N-Pepa ("Push It," "Shoop," "Whatta Man"), Rick Astley ("Never Gonna Give You Up," "Together Forever") and En Vogue ("Don't Let Go [Love]," "Free Your Mind," "Give It Up, Turn It Loose," "Hold On") will keep the 80s party spinning just as you remember like it was back in 89!
As NKOTB posted on Instagram: "Getting that confetti ready because we're coming to a stage near you in 2022!! 🎉 We're bringin' our friends @Saltnpepaofficial, @officialrickastley and @envoguemusic along for the ride!" Now hit that 'Get Tickets' link to book your tickets now!