Capital One Arena | Washington, District Of Columbia
Get ready for the hip-hop and R&B event of the year!! It's Chris Brown, 50 Cent, OT Genasis, Fabolous and Kap G on the massive The Party tour, performing in 33 cities across America from Baltimore to Los Angeles. The five are hitting the Verizon Center on Friday 21st April 2017 for a night of music, dance and visuals like you've never seen before! Limited tickets still available – get yours while you can!!!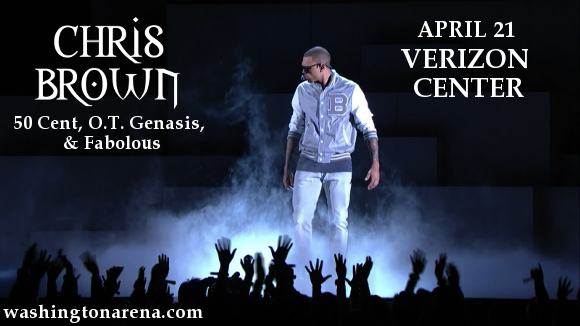 One of the biggest and best-known names on the RnB scene today, Chris Brown's talents started developing when he was very young and singing in his church choir. Influenced massively by artists such as Usher and Michael Jackson, he started to mimic these singers aged around 11, developing his interest in RnB as a teenager. With his other influences including Marvin Gaye, New Edition and R. Kelly, his first album, "Chris Brown," was a colossal success, peaking at number 2 on the Billboard Hot 100 and selling over 2 million copies in the United States alone!!
From there, Chris Brown went on to release a string of singles and albums, each one more successful than the last with his visuals receiving almost as much acclaim as his music for his Jackson-inspired modern choreography routines. As an RnB artist, Chris Brown is seen by many to have been a dominant force in shaping the sound of the genre as we know it today, with Vibe stating; "As traditional R&B flourished around him, the young singer began an evolution of the genre."