Capital One Arena | Washington, D.C
The sensational global successful artist that is – Lana Del Rey is coming to Verizon Center on Thursday 25th January 2018!
Back on her Winter tour that will no doubt sell out fast, Lana Del Rey brings her gorgeous latest album, Lust For Life to the stages of North America! Book your tickets today and grab the chance to catch all of your favorite Lana tracks right in front of you… songs from her latest release, along with her biggest singles, including the likes of; "Born Of Die, "Blue Jeans," "Summertime Sadness," "West Coast," "High By The Beach" and so so much more!!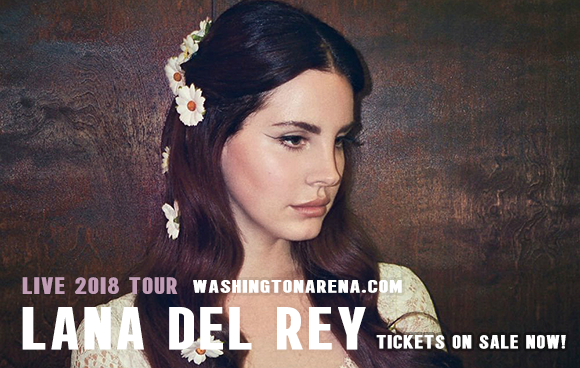 Lana Del Rey has been tipping the charts since her very first debut in the mainstream in 2011, with his release of "Video Games." The montage style music video caught the eye of so many fellow artists, critics and fans alike worldwide – due to many spreading the word via YouTube. Her unique sound has been described as "tragic romance, glamour, and melancholia, and its references to pop culture, particularly 1950s and 1960s Americana."
Her incredible themes for each album, takes her fans on a journey not just with the music, but through artwork and a persona that is truly mesmerising! Lana received her first Grammy nomination for Best Pop Vocal Album for the EP released in 2013. And the ball just started rolling from there, Born To Die, Ultraviolence, Honeymoon.. they've all been explosive and it's pretty clear to see why. This lady has some serious talent and her most recent, "Lust For Life" continues to gain her positive response yet again. With it's 60's flower power and space themes.
Get ready for another big year ahead, tickets for her 2018 show are now on sale!!