Capital One Arena | Washington, D.C
The Jonas Brothers have reunited, and they're coming to Capital One Arena on Thursday 15th August 2019 on a comeback tour!!! The celebrates the release of their fifth studio album, Happiness Begins, which is their first in 10 years and was preceded by the singles "Sucker" and "Cool"! They'll be joined in support by the incredible Bebe Rexha and Jordan McGraw!
"We're so excited to announce this tour and get in front of our fans again," the Jonas Brothers said in a statement. "We can't wait for everyone to see what we have planned!"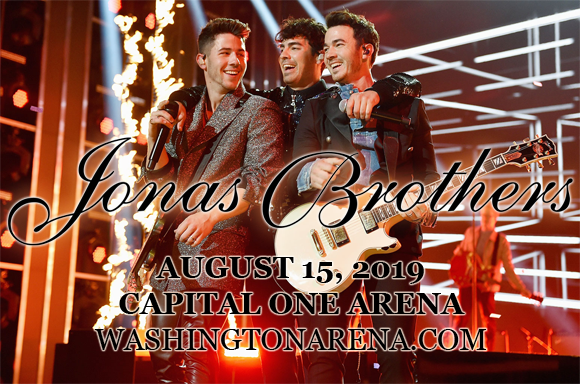 Jonas brothers is a pop rock band formed in 2005 by siblings Joe, Kevin and Nick Jonas. The group released its debut studio album, It's About Time, in August 2006, but it was their self-titled second album that brought the band recognition, reaching number five on the Billboard 200 in its first week. In 2008, the trio released its third studio album, A Little Bit Longer, which debuted at number one on the Billboard 200, as well as co-writing and co-producing Demi Lovato's album, Don't Forget, and starring in Disney's Camp Rock. They also contributed to the film's soundtrack and went on to star in the film's sequel, Camp Rock 2: The Final Jam (2010). 2008 also saw the band nominated for the Best New Artist award at the 51st Grammy Awards and they won the award for Breakthrough Artist at the American Music Awards. Their fourth studio album, Lines, Vines and Trying Times, was released in 2009 and debuted at number one on the Billboard 200. In 2011, the band announced a hiatus to enable the brothers to work on their own individual projects. They reconvened for a while, but in 2013, the group disbanded. In February 2019, they announced their reunion and on March 1, they released a new single, "Sucker", which debuted at number one on the Billboard Top 100. Their fifth studio album, Happiness Begins, is released on June 7, 2019.