Capital One Arena | Washington, D.C
Ageless pop diva Cher comes to Capital One Arena on Tuesday 10th December 2019 on her Here We Go Again Tour! The show features the iconic performer bringing her own flavor to ABBA classics, promoting her ABBA tribute album Dancing Queen and, of course, her new film 'Mamma Mia! Here We Go Again'! A pop-lover's dream, the evening not only has a full headlining set from the singer, but also a support set from disco pioneers Nile Rodgers and Chic!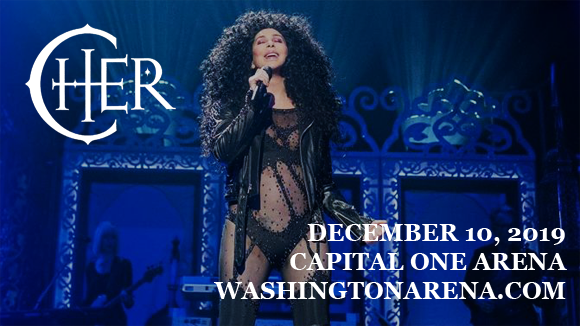 A Grammy Award, Emmy Award, Academy Award and three-time Golden Globe Award-winner, Cher is an icon of pop music and a multi-disciplinary superstar. In the early 1960s, upon meeting her future husband Sonny Bono, who worked for record producer Phil Spector, Cher was a backup singer on several recordings, including the Ronettes' "Be My Baby" and the Righteous Brothers' "You've Lost That Lovin' Feelin'". Her debut solo album, All I Really Want to Do, was released in 1965 and reached number 16 on the Billboard 200. "I Got You Babe" (1965) was a number one single for Sonny and Cher in both the UK and America, with the duo going on to chart ten Billboard top 40 singles between 1965 and 1972, including five top-ten singles: "I Got You Babe", "Baby Don't Go", "The Beat Goes On", "All I Ever Need Is You", and "A Cowboy's Work Is Never Done". Cher's solo career was a simultaneous success, with her 1966 hit "Bang Bang (My Baby Shot Me Down)" selling over one million copies and reaching number two in America. Throughout the early 1970s, whilst establishing her television career and clothing line, Cher's solo career grew with the number one singles "Gypsys, Tramps & Thieves", "Half-Breed", and "Dark Lady". Following her divorce from Sonny in 1975, she re-established herself with the 1979 disco album Take Me Home and earned $300,000 a week for her 1980–1982 concert residency in Las Vegas. Throughout the 1980s and early 1990s, Cher starred on Broadway and in several films, and her music career continued with the hit singles "I Found Someone", "If I Could Turn Back Time" and "Love and Understanding". In 1998, she reached a new commercial peak with the dance-pop album Believe, whose title track became the biggest-selling single of all time by a female artist in the UK. Living Proof: The Farewell Tour, her 2002 – 2005 tour, became one of the highest-grossing concert tours of all time, and in 2008 she signed a $180 million deal to headline the Colosseum at Caesars Palace in Las Vegas for three years. Her most recent release, Dancing Queen (an album of ABBA covers inspired by her starring role in the 2018 ABBA musical Mamma Mia! Here We Go Again) debuted at number three on the Billboard 200, tying with 2013's Closer to the Truth for Cher's highest-charting solo album in the U.S. Cher has sold 100 million records worldwide to date, becoming one of the best-selling music artists in history, and is the only artist to date to have a number-one single on a Billboard chart in six consecutive decades, from the 1960s to the 2010s.